Voici un projet de long-métrage japonais dont j'entends parler en off depuis quelques années et qui me fait saliver : le nouveau
Hiroyuki Okiura
, réalisateur de Jin-Roh. Le film s'intitule
Momo e no Tegami
(A letter to Momo), il est fabriqué chez
Production IG
(avec les sous de Kadokawa), pour une sortie prévue en 2012. Ce qui m'excitait aussi, c'est la brochette d'artistes qui bossent avec Okiura, et qui sont également officialisés (attention, si habituellement vous retenez vous aussi les noms des animateurs japonais, just enjoy it) :
Masashi Ando
(Princesse Mononoke, Tokyo Godfathers, Paprika, Paranoia Agent) est directeur d'animation, avec en bras-droits
Toshiyuki Inoue
(Blood, A Tree of Palme, Magnetic Rose, et la plupart des oeuvres de Kon...),
Takeshi Honda
(Denno Coil, Beyond dans Animatrix, Blue 6 ...),
Tetsuya Nishio
(Innocence, Sky Crawlers ...),
Ei Inoue
(The Cat Returns, Paprika ...), ou encore
Hiroyuki Aoyama
(La Traversée du Temps, Summer Wars, Piano Forest ...).
Cela fait presque 7 ans qu'Okiura travaille sur ce projet, il me tarde ! En attendant, la première image officielle :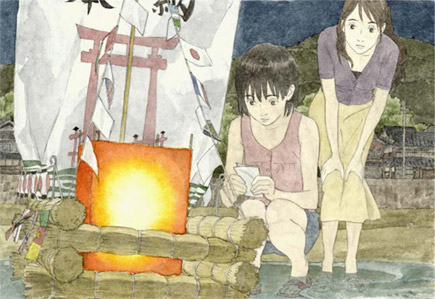 Le pitch en anglais :
"Dear Momo" - that was all that was written on a letter left behind by Momo's late father. Momo and her mother have just moved from Tokyo to the countryside of Japan's Inland Sea. On an island lies a wondrous town surrounded on all sides by quaint homes and nature's landscape. Even as Momo starts a new life, she wonders, "Father, what did you really wanted to write in your letter…?" One day, she discovers an ancient book in the attic, and from that day forward, strange happenings occur all around Momo.
Source :
AnimeAnime
et
ANN