Petit coup de pouce à des projets animés qui cherchent actuellement à se financer.
-
The Dam Keeper
, un court-métrage développé par deux artistes de chez Pixar,
Dice Tsutsumi
(Sketchtravel) et
Robert Kondo
(dont j'ai récemment posté des artworks de Ratatouille sur
Tumblr
). Ils mettent en vente des artworks du futur film pour financer le projet.
>
Enchères sur ebay
|
Page Facebook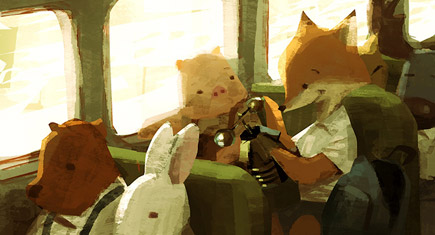 -
Wonder 365 Animation Project
, du réalisateur indépendant japonais
Mirai Mizue
déjà évoqué dans mes
news
. Il réalise un projet sur 1 ans à base d'animations quotidiennes que vous pouvez soutenir via des dons paypal. Et il en est presque à la fin.
>
Page du projet
-
Last Days of Coney Island
, projet par le vétéran
Ralph Bakshi
(Fritz The Cat, Tygra, Cool World, Le Seigneur des Anneaux ...).
>
Page Kickstarter