NEWS
DIVERS
Dans le grenier de Catsuka ...
(vieilles VHS japonaises & inédits DVD)
Aujourd'hui c'est férié en France comme vous le savez, et j'espère que vous en profitez. De mon côté j'ai fait un peu de rangement chez moi, en dépoussiérant notamment des tas de VHS. Oui, j'ai encore des cassettes vidéos, notamment japonaises, et j'en achète encore d'occasion en import. Vous me direz, il est fou ? Et bien non, car il faut savoir qu'un très grand nombre d'animes japonais des années 80/90 ne sont jamais sortis en DVD, et n'ont existé qu'en VHS voir en Laserdisc. Des OAV (direct-to-video) pour la plupart, que je collectionne/numérise/sauvegarde. Comme par exemple les oeuvres évoquées ci-dessous (méconnues du plus grand nombre, je pense), qui ne sont donc jamais sorties en DVD (à l'exception du making-of de Mononoke Hime, de Twilight Q, de Gosenzo-sama Banbanzai, et Shin Kaitei Gunkan, à ma connaissance).
Ai Monogatari
(OAV - 1991 - omnibus avec un segment
Hero
réalisé par Koji Morimoto).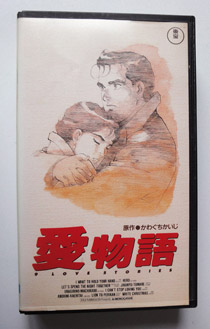 2 VHS issues de la collection
Anime Art Video Collection
(1993) dans laquelle on trouve notamment le
Jack & Beanstalk
de Koji Morimoto.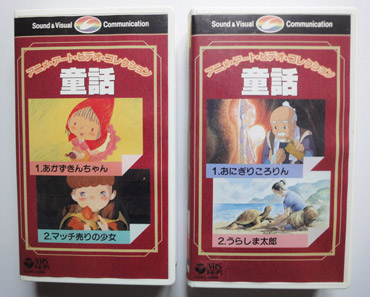 Bobby ni kubittake
(OAV - 1984 - Directeur de l'animation : Manabu Ohashi - avec notamment une
séquence
animée par Koji Morimoto et Takashi Nakamura).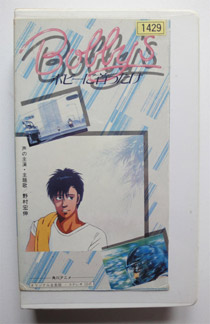 Tooi Umi Kara Kita Coo
(Long-métrage - 1993 - entrevu dans le fameux numéro spécial anime de L'Oeil du Cyclone).
Cool Cool Bye
(OAV - 1986 - réalisé par Tomonori Kogawa). J'ai aussi le LD et l'OST (et j'en avais déjà
parlé
).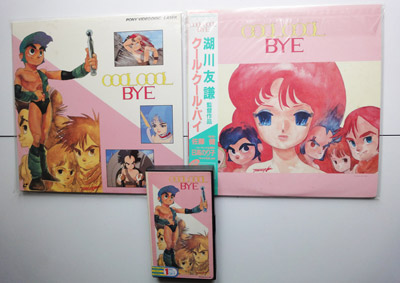 Donguri to Yamaneko
(OAV - 1988 - Réalisé par Toshio Hirata et entièrement animé par Yasuhiro Nakura, comme je l'avais déjà
évoqué
).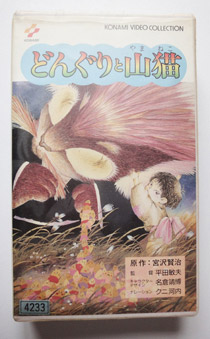 Download
(OAV - 1992 - Directeur de l'animation : Yoshinori Kanada - avec notamment Tatsuyuki Tanaka sur quelques plans).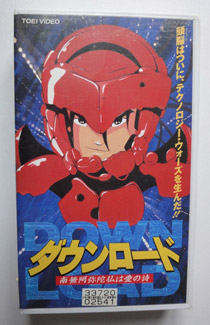 Gosenzo-sama Banbanzai
(1989), une série d'OAV qui existe aussi en film (Maroko). Une réalisation méconnue mais culte de Mamoru Oshii, avec tout un tas d'animateurs ultra talentueux : Shinji Hashimoto, Mitsuo Iso, Satoru Utsunomiya, Shinya Ohira, Tetsuya Nishio, Norio Matsumoto, Osamu Tanabe, Tatsuyuki Tanaka ....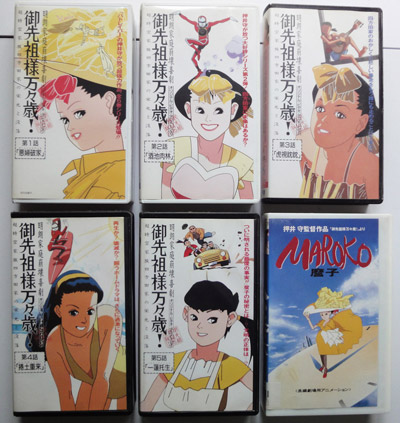 Kaze no Matasaburo
(OAV - 1988 - Réalisé par Rintaro, et basé sur une histoire de Kenji Miyazawa).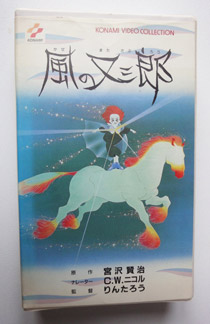 Little Twins
(Série TV- 1992 - générique animé par Takashi Nakamura).
Maruko Chan - My Favorite Song
(Film - 1992 - avec 2 fameuses
séquences
musicales par Masaaki Yuasa).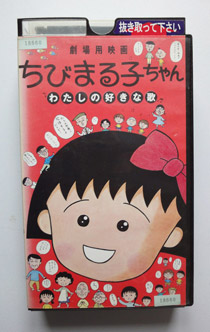 Memol
(OAV de 15min - 1985 - Réalisée et entièrement animées par Yasuhiro Nakura - déjà
évoqué
).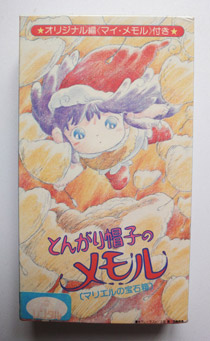 Le fameux très long making of de
Mononoke Hime
(sur 3 VHS).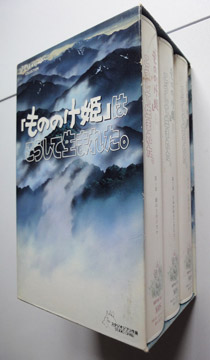 Polar Bear
(OAV - 1991 - Design et animation de Masaaki Yuasa).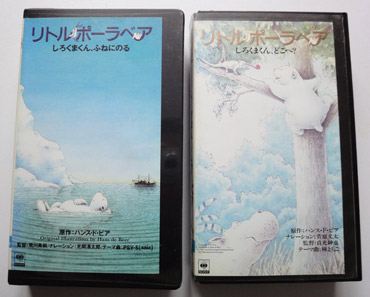 Hashire Melos
, un film de 1992 dont la non-sortie en DVD reste toujours pour moi un mystère, surtout que le character-design, le storyboard et la direction de l'animation sont signés Hiroyuki Okiura (Jin-Roh, A Letter to Momo).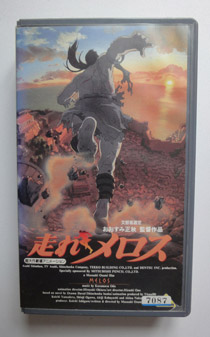 Shunmao Monogatari Tao Tao
(Film - 1981 - Tatsuo Shimamura).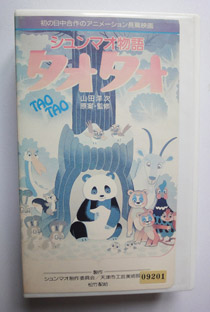 Une VHS bonus offerte dans le magazine V-Jump en 1999, et qui contient le court-métrage
Slime Adventures
réalisé (spécialement pour) par Masaaki Yuasa (son premier film).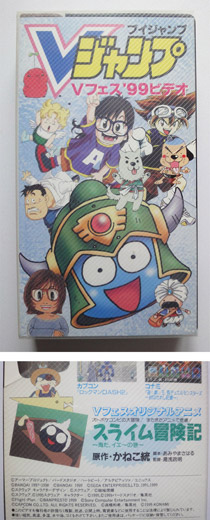 Shin Kaitei Gunkan
(OAV - 1995).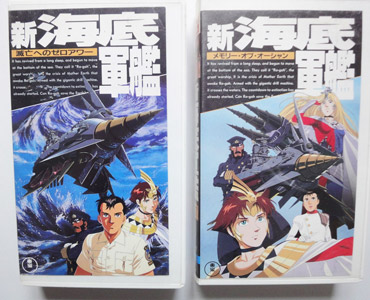 The Restaurant of Many Orders
(OAV - 1991 - dernier travail de Tadanari Okamoto).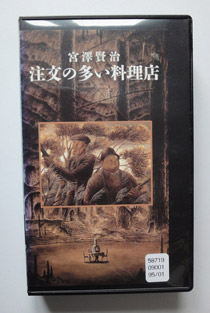 The Tale of Genji
(Film - 1987 - Gisaburo Sugii).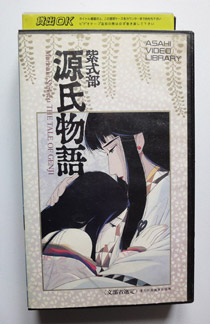 Twilight Q
- OAV 2 (1987 - réalisé par Mamoru Oshii).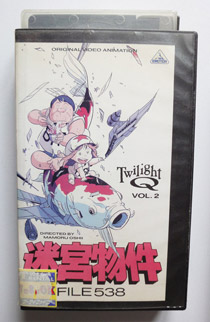 Yumemakura Baku Twilight Gekijou
(OAV - 1991 - with shorts by Shinji Hashimoto and Shinya Ohira).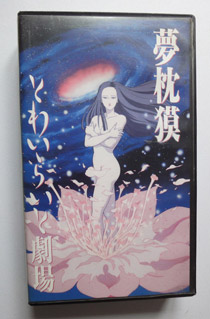 NEWS RELATIVES
Pas de news relative.
Diablo III : Wrath en ligne (court-métrage de Peter Chung et Titmouse pour le jeu)
News suivante
News précédente
The Eagleman Stag (de Mikey Please)
Rechercher dans les news :
Archives mensuelles
|
Flux RSS
)
Stimulations du moment
Twitter Catsuka
Tumblr Catsuka
Le Capsuka
Catsuka?

Catsuquoi ? ...
Voir l'historique du site
et la timeline
Catsuka est un site indépendant non lucratif, sans aucune pub depuis sa création il y plus de 19 ans. Si vous souhaitez soutenir mon travail, vous pouvez faire un don via Paypal pour aider aux frais d'hébergement. Merci ! (English : Catsuka is an independent website with no advertising, I don't earn any money. If you like my work, you can help me to pay hosting service fees via Paypal donations)
Want to help Catsuka ?
P3 (Pierrick le poulpe Puissant)
TURBO MEDIA