NEWS
Diffusions
Tags :
france4
DIFFUSIONS
DIFFUSIONS
Hop dernier rappel pour la
Nuit 4.0
spéciale animation adulte
ce soir à 0h15 sur France 4
. Plus de 2h30 de court-métrages, dont je me suis occupé de la sélection et de la façon dont un certain "Mr Costard" les présentera/associera :-) (avec Yves "Balak" Bigerel à l'écriture des plateaux, et Tristan Dauly à la réalisation / direction artistique).
Je serai en livetweet au même moment sur le compte
Twitter
de France 4, donc n'hésitez pas si vous voulez réagir et discuter en direct :-)
Et en attendant certains contenus de la soirée sont déjà visibles sur la plateforme de web-créations
Studio 4.0
(
www.france4.fr/studio-4-0
) lancée aujourd'hui également, avec notamment les web-séries Déconne Man, Giant, Box Stories, et certains courts de la nuit.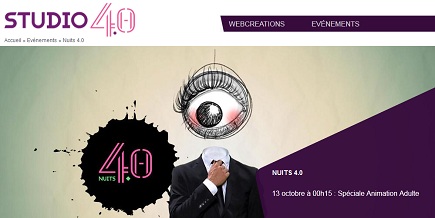 La liste de films de la Nuit 4.0 :
-
At At Day Afternoon
, de Patrick Boivin.
-
Be a vegetarian
, de GlossyRey.
-
Biotope
, de Merwan Chabane (ENSAD / Onyx).
-
Box Stories
, de Romain Pergod et Fafah Togora (web série).
-
Chroniques de la poisse
, d'Osman Cerfon (Je Suis Bien Content).
-
Crater face
, de Skyler Page (CalArts).
-
Deconne man
, de Je Suis Bien Content (web série).
-
Dog With Electric Collar
, de Steve Baker.
-
Fantasy
, de Jérémie Périn.
-
Fresh Guacamole
, de PES.
-
Fumiko's Confession
, d'Hiroyasu Ishida (Kyoto Seika University).
-
Giant
, de Céline Desrumaux et Yann Benedi (web série).
-
Happy Happy Yay Yay
, de Mel Roach (Royal Melbourne Institute of Technology).
-
Hazed
, de Matt Hammill.
-
La Détente
, de Pierre Ducos et Bertrand Bey (Kawanimation).
-
Les Chiens isolés
, de Rémi Bastie, Nicolas Dehghani, Jonathan Djob Nkondo, Paul Lacolley, Kevin Manach, Nicolas Pegon, Jérémy Pires (Gobelins, l'école de l'image).
-
Lisa
, de Marco Nguyen et Bertrand Piocelle.
-
Little boat
, de Nelson Boles (CalArts).
-
Lucha
1 & 2, de Yann Ben Alluch.
-
Mac 'n' Cheese
, de Tom Hankins, Gijs van Kooten, Roy Nieterau et Guido Puijk (Utrecht School of the Arts).
-
Mom's Cleaning
, d'Hiroki Mori.
-
My Bloody lad
, de Cyrille Chauvin, Guillaume Dousse, Thibaud Petitpas et Pierre Rutz (Quad).
-
Overtime
, d'Oury Atlan (Supinfocom).
-
Paths of Hate
, de Damian Nenow (Platige Image).
-
Pierre le cosmonaute
, de David et Laurent Nicolas.
-
Salesman Pete
, d'Anthony Vivien, Max Loubaresse et Marc Bouyer.
-
Spuf
, de Jérémie Périn.
-
The Arctic Circle
, de Kevin Parry (Sheridan College).
-
The Backwater Gospel
, de Bo Mathorne (The Animation Workshop).
-
The Chase
, de Philippe Gamer.
-
The External World
, de David O'Reilly.
-
The People Who Never Stop
, de Florian Piento.
-
Todor et Petru
, de Rémi Bastie, Jonathan Djob Nkondo, Nicolas Pegon, Nicolas Dehghani et Jérémy Pirès (Quad).
-
Tram
, de Michaela Pavlatova (Sacrebleu Productions).
-
Will
, d'Eusong Lee (CalArts).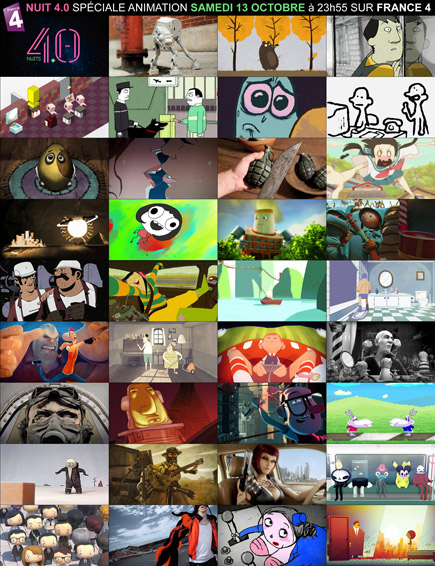 NEWS RELATIVES
Doodle Little Nemo
News suivante
News précédente
Financez (l'animatique de) The Goon sur Kickstarter
Rechercher dans les news :
Archives mensuelles
|
Flux RSS
)
CatsuKuts
Stimulations du moment
Le Capsuka
Catsuka?

Catsuquoi ? ...
Voir la page À propos
et la timeline
Catsuka est un site indépendant non lucratif, sans aucune pub depuis sa création il y plus de 23 ans. Si vous souhaitez soutenir mon travail, vous pouvez souscrire à mon
Patreon
, ou faire
un don
via Paypal pour aider aux frais d'hébergement. Merci !
English : Catsuka is an independent website with no advertising, I don't earn any money. If you like my work, you can help me my supporting my
Patreon
, or make a Paypal
donation
to pay hosting service fees. Thanks!
Want to support Catsuka ?
P3 (Pierrick le poulpe Puissant)