NEWS
News postée le
05/05/2014
à
01h44
par
Tsuka
Catégories :
Sur le web
Tags :
catsuka
SUR LE WEB
10 000 followers sur le Tumblr Catsuka
(images stimulantes)
Voila un peu plus d'un an que j'ai lancé un
Tumblr Catsuka
, qui a passé il y a quelques jours le cap des
10 000 abonnés
. A cette occasion, je viens d'insérer un petit module à votre droite dans l'interface de Catsuka, qui vous permettra de voir mes derniers billets (j'ai également procédé à quelques autres ajustements d'interface, dont l'élargissement des news). J'avoue être assez surpris de la rapide popularité de ma petite page, dont je n'ai toujours pas pris le temps de peaufiner l'apparence, mais ceux qui connaissent Tumblr savent que c'est surtout ce qu'on met dans les posts qui importe, le tout étant principalement noyé dans les dashboards et l'océan insaisissable de ce réseau. Bref, je poste surtout là-bas des images, que j'embarque parfois aussi ici dans mes news, comme vous aurez pu le remarquer ces derniers mois. Mais c'est souvent pour moi l'occasion d'y publier des images de manière décontractée et dont je n'aurai pas fait ici d'actualité.
Si vous souhaitez voir et vous abonner, c'est par ici :
ca-tsuka.tumblr.com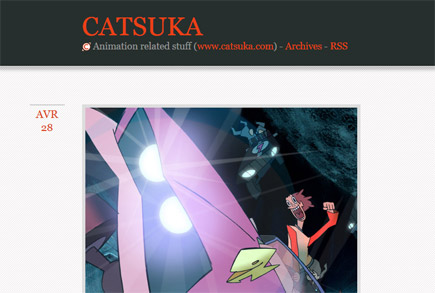 Et sinon, voici mes posts les plus populaires de 2013, et de ce début 2014 :
--------------------------------------------------------
Best-of Tumblr Catsuka 2014 :
--------------------------------------------------------
1.
"Disney Villains Perfume" by japanese artist Ruby Spark....
256852 notes
- Posté le
2014/1/7
2.
"Attack on Titan" live action commercial for Subaru...
60811 notes
- Posté le
2014/1/24
3.
Zombillenium, an upcoming french animated feature film directed by Arthur de Pins (based on his comi...
48104 notes
- Posté le
2014/4/8
4.
Some HD artworks from upcoming Song of the Sea animated feature film directed by Tomm Moore (The Sec...
24179 notes
- Posté le
2014/1/21
5.
Baidir, an upcoming awesome french animated comic (aka Turbo Media) by Ankama studio.Created by Ani...
15731 notes
- Posté le
2014/1/15
6.
Mondo is celebrating LAIKA Animation Studios with releases of CORALINE & PARANORMAN soundtracks ...
14660 notes
- Posté le
2014/4/15
7.
1st pictures of next Studio Ghibli film Omoide no Marnie, directed by Hiromasa Yonebayashi (Arietty)...
13964 notes
- Posté le
2014/4/16
8.
Some french/european animated feature films projects presented these days at professional Cartoon Mo...
11986 notes
- Posté le
2014/3/7
9.
Ping Pong animations by Bahi JD (see more on twitter)....
11091 notes
- Posté le
2014/4/29
10.
So Little Witch Academia / Anime Mirai exhibition opens tomorrow in Tokyo :-)...
8503 notes
- Posté le
2014/2/21
--------------------------------------------------------
Best-of Tumblr Catsuka 2013 :
--------------------------------------------------------
1.
Cartoon Network train in Taiwan (aka Cartoon Express)...
111363 notes
- Posté le
2013/8/5
2.
Ghibli/Pixar/Disney undersea mural painted by a father for his daughter's 2nd birthday (source...
42649 notes
- Posté le
2013/11/14
3.
I'm dying to see "Yume to Kyoki no Okoku", a documentary about Studio Ghibli...
34220 notes
- Posté le
2013/9/24
4.
Studio Ghibli event during 2010 Rock in Japan Festival...
33179 notes
- Posté le
2013/9/6
5.
"Doctor Who 50th Anniversary Project"Nice Doctor Who tribute animation by Chang Dai.Please enjoy his...
30510 notes
- Posté le
2013/11/29
6.
Kungfu Cooking Girls - 2011 - 9minShort-film by chinese indie Wolf Smoke animation studio....
20730 notes
- Posté le
2013/4/15
7.
Beautiful backgrounds by Romain Trystram (he works for animation projects and comic books)....
20057 notes
- Posté le
2013/11/15
8.
A little post to celebrate the success of Little Witch Academia 2 project by Studio Trigger on Kicks...
19662 notes
- Posté le
2013/7/10
9.
Official Studio Ghibli tribute posters by Olly Moss for Mondo.(Spirited Away, Howl's Moving Ca...
16861 notes
- Posté le
2013/7/11
10.
Hayao Miyazaki is drawing a new manga.(stills from NHK "Professional Shigoto no Ryugi" t...
16515 notes
- Posté le
2013/11/19
NEWS RELATIVES
The Illusion of Life (par Cento Lodigiani)
News suivante
News précédente
A Crow Is White - Fake! Fake! (clip de Wataru Uekusa)
Rechercher dans les news :
Archives mensuelles
|
Flux RSS
)
Stimulations du moment
Catsuka, l'émission TV sur Nolife
Tumblr Catsuka
Twitter Catsuka
Le Capsuka
Catsuka?

Catsuquoi ? ...
Voir l'historique du site
et la timeline
Catsuka est un site indépendant non lucratif, sans aucune pub depuis sa création il y plus de 16 ans. Si vous souhaitez soutenir mon travail, vous pouvez faire un don via Paypal pour aider aux frais d'hébergement. Merci ! (English : Catsuka is an independent website with no advertising, I don't earn any money. If you like my work, you can help me to pay hosting service fees via Paypal donations)
Want to help Catsuka ?
P3 (Pierrick le poulpe Puissant)
TURBO MEDIA