NEWS
22/02/2018
à
16h30
par
Tsuka
Catégories :
Court-métrages
Tags :
2veinte
COURT-MÉTRAGES
EXCLUSIVE !
Découvrez en avant-première sur Catsuka l'opening de
The Ricochet Splendid
, produit par le studio argentin
2veinte
.
Mais quel est donc ce projet ? Et bien pour l'instant ça n'en est pas un, le studio ayant juste voulu réaliser un opening dans la plus pure nostalgie de tant de génériques de séries (notamment japonaises) qui les ont bercé par le passé (et vous aussi je pense). Le résultat est fabuleux, généreux, c'est le genre de vidéo bien métissée que je peux me revoir tous les matins pour me donner la pêche.
2veinte est à la base un studio plutôt spécialisé dans les films des commandes, mais qui mets un point d'honneur a produire quand ils peuvent des petits films indépendants (comme par ex
100 Years - Armenian Genocide
que j'avais relayé). Vous retrouverez plus bas une interview que j'ai faite de Pablo Gostanian et Diego Polieri, qui vous en disent plus.
Voir la vidéo en grand sur le
Catsuka Player
, ou ci-dessous :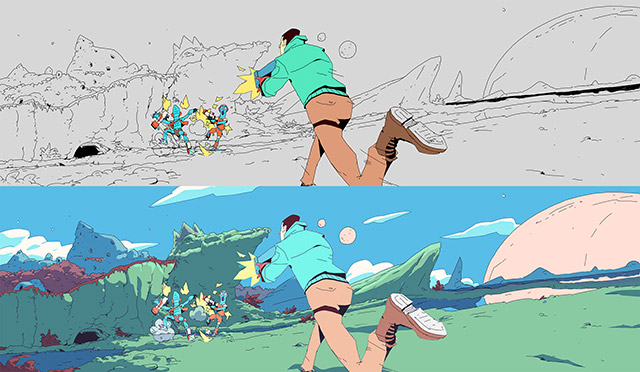 STAFF
:
Directed & done by 2veinte
Creative Director : Pablo Gostanian
Executive producer : Agustin Valcarenghi
Animation Director : Diego Polieri
Art Direction : Pablo Gostanian, Diego Polieri
Lead Cel Animation : Diego Polieri, Fernando Toninello, Juan Nadalino, Israel Giampiero
Additional Animation : Patricio Plaza, Martin Gil, Julian Fumagalli
Cel Animation Assist : Yazmin Hanna, Denise Cirone, Diego Fracchia, Ivan Greco
Addicional Clean up : Facundo Garcia, Agostina Salvemini, Nahuel Sagarnaga
Idea : Pablo Gostanian
Characters design : Diego Polieri
Story : Pablo Gostanian, Diego Polieri, Melisa Farina
Composition : Daniel di Paola, Mateo Vallejo
Edition : Pablo Gostanian, Diego Polieri
Production : Carolina L'avena
3D Animation : Mateo Vallejo
Illustration : Diego Polieri, Nahuel Sagarnaga, Patricio Delpeche
Additional Illustration : Santiago Villa
Robots Design : Delfina Perez
Additional AE animation : Daniel Di Paola
Original Music : Thomas Richard Christensen
Ending Credits Music : Sergio Denis - "Un poco loco"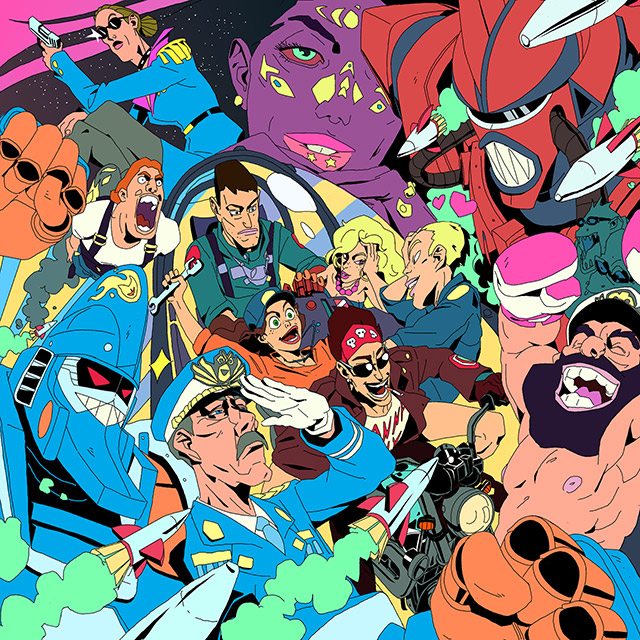 INTERVIEW
:
-
Can you introduce 2veinte studio to my readers ?
Pablo Gostanian
: Hey there! 2veinte is a design and animation studio based in Buenos Aires, Argentina.
Our expertise goes from TV channel branding to animation for clients worldwide. We cover different areas such as design, 2D, 3D and cel-animation. We're also know for our non-commercial projects, selected and showcased by more than 50 animation festivals around the globe.
-
Even if you make a lot of commercial works, you also sometimes direct internal short films like "Psychic Land", "Wild & Woolly", "Looking for a Fight"... Is-it important for you to keep making such movies, not only for fun ? I also think about "100 Years - Armenian Genocide".
P
: Yes, it's pretty important for us to produce non-commercial projects. So much so, that it has become and essential part of our studio.
Ever since we started, we've tried to do at least one non-commercial project a year, and we get so much from this:
Firstly, as you mentioned, we have fun, cause a project with this much freedom is liberating and exciting. We can do whatever we want and the entire team at 2veinte really enjoys the entire team working process.
Secondly, we explore new techniques. We use this opportunity to work on something we have never done before, and leave our comfort zone, learn new things, software, etc. Eventually, this will help take our skills to a new level.
Thirdly, we raise our quality standards. Every non-commercial project is aimed at improving the quality of our work and make us better professionals.
Fourthly, we get to put our ideas into motion. We have new ideas all the time, so It's pretty satisfying to see them come to life once the long process is complete.
Lastly, we make an investment. Leaving aside personal satisfaction, all of our previous non-commercial projects have attracted many new clients. It definitely pays off.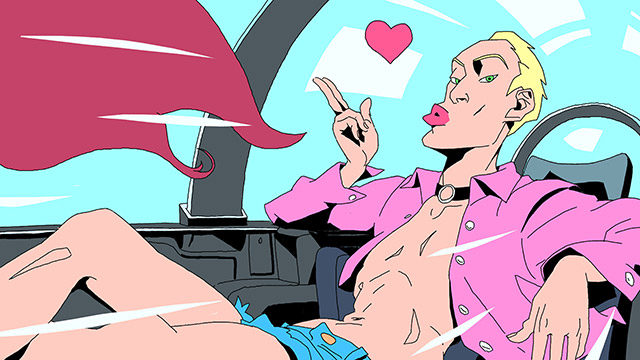 -
Where comes the idea of "Ricochet Splendid" ?
P
: We've always been big fans of show openings. You see, for us, it's a really interesting piece, as it combines lots of great things, lots of action, great animation, amazing characters, infinite situations. We get to play with the cameras and lead the characters to their greatest moments. It's a showcase of our design and animation skills.
So, a year and a half ago, the idea was to produce a fun opening for a show that combined comedy (we really wanted comedy) and action. We spent more than a month writing and creating the Ricochet universe, it's plot and characters.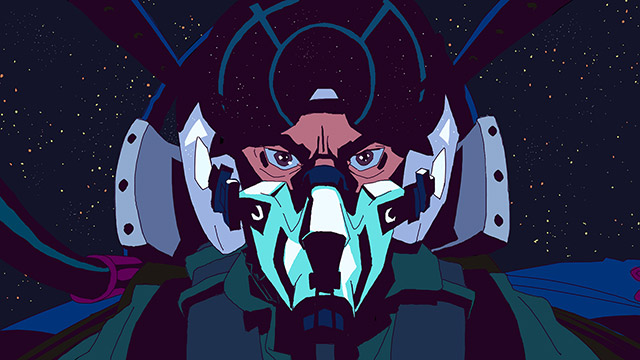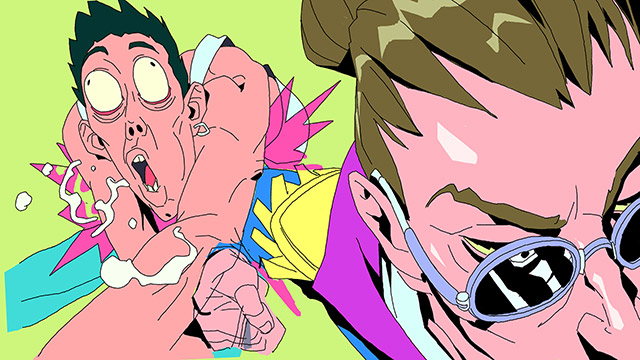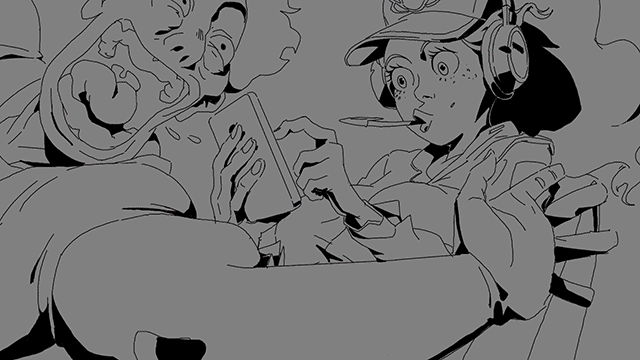 -
It feels like an opening of 80's animated TV series, like Galaxy Rangers, Silverhawks ... which were in fact american TV series animated in Japan. Did you watch such series when your were kids in Argentina ?
P
: Yeah, of course. We grew up watching all of those shows. They are part of our childhood and today's nostalgia. Their openings are pretty cool to watch today.
-
About design and animation, what was your influences ? I can feel a lot of vibes, from Hiroyuki Imaishi to Takeshi Koike, Peter Chung, or even Mike Judge.
Diego Polieri
: Thanks for noticing this influences, they are gods to us. I'm pretty sure these references were in our heads at the moment of designing.
We're really influence by anime, we're big fans. The drawing style of the characters is pretty much free and expressive, maybe that is why you named Mike Judge, cause our characters also have bizarre and comedy features.
One of the films that has more influence in me was Furi Kuri. For its Aesthetics and animation style. It had a big impact in me for the freedom they had in the way they draw the characters in function of what each scene needed. Another interesting thing, beyond the influences, is that this short was done by a team from Argentina with a different background than the Oriental, and no doubt you can notice this culture and tradition in the work.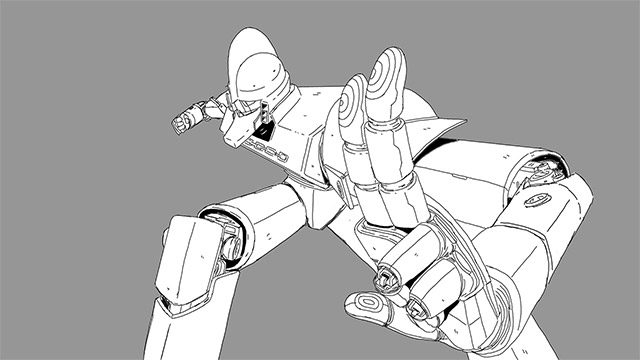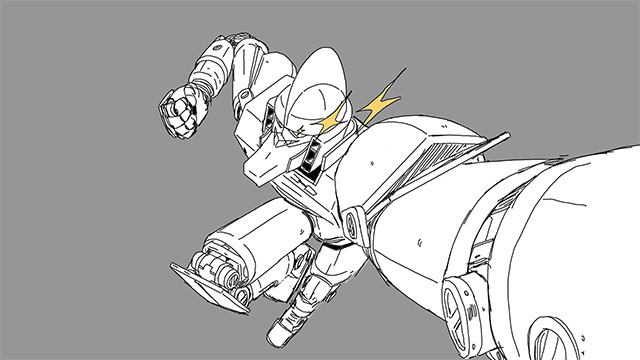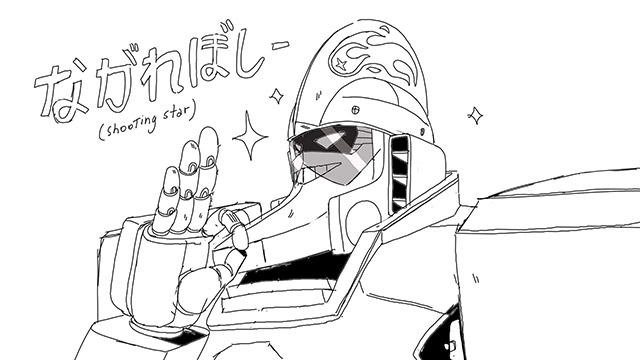 -
Who made the song and music ? Can you tell us a bit more about that ?
P
: As soon as we had finished with the draft boardamatic (boards in a time line), we needed a good music track. I had in mind this Danish musician, I loved some of his old work. So, we called Thomas Richard Christensen, we showed him what we'd got so far, and luckily he said yes!
He created the music based on the plot and the characters, it's simply brilliant, he captured each scene of the Ricochet Splendid instantly. I strongly suggest you check out the lyrics, they are super cool.
-
So this is a fake opening, but who knows, if some rich producer come to you ... do you have a true script :-) ?
P
: We wish! As we say here in Argentina "Dream! It's free" hahaha. But who knows!
The story is quite complete in terms of plot and character outlines but we don't have an actual script right now. It's all a question of sitting our asses down and start writing. We are open to receive an offer from any rich producer haha.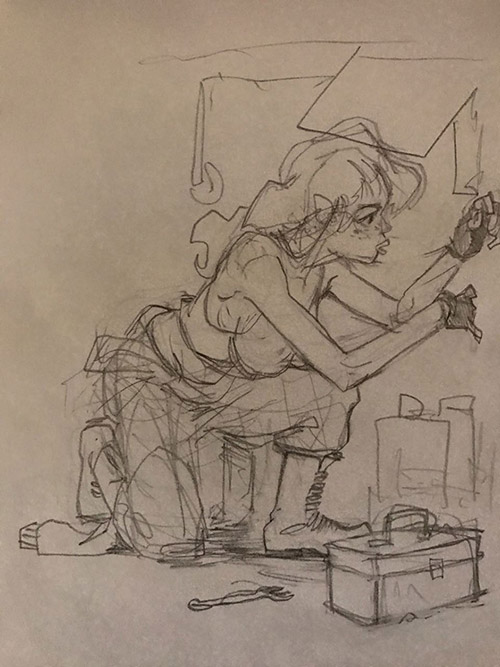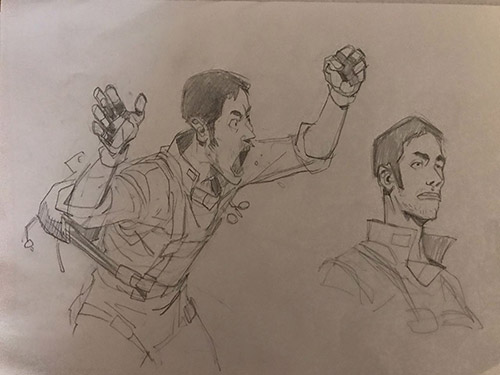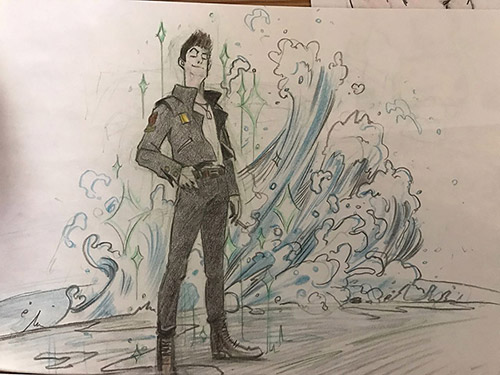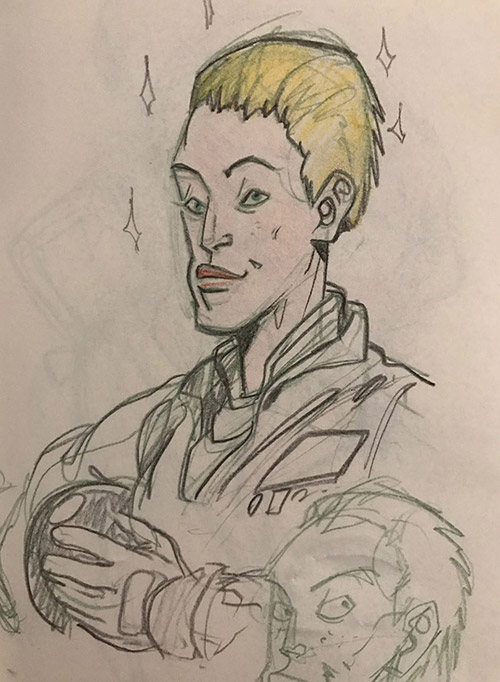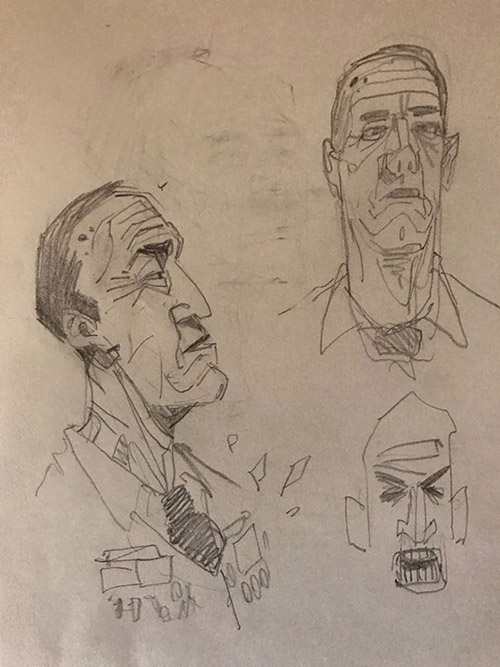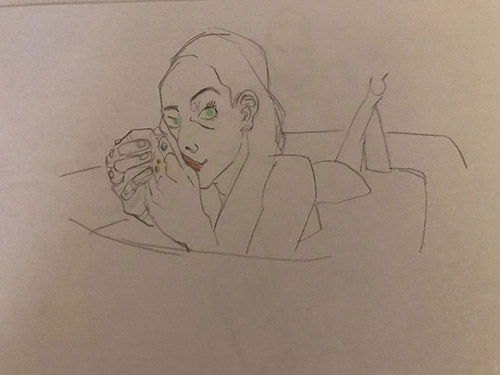 NEWS RELATIVES
Le Futur Sera Chauve (court-métrage de Paul Cabon)
News suivante
News précédente
The World of Roku - épisode pilote en ligne (projet indé 3D japonais du studio Ugoki)
Rechercher dans les news :
Archives mensuelles
|
Flux RSS
)
Stimulations du moment
Twitter Catsuka
Catsuka Player
Le Capsuka
Catsuka?

Catsuquoi ? ...
Voir l'historique du site
et la timeline
Catsuka est un site indépendant non lucratif, sans aucune pub depuis sa création il y plus de 20 ans. Si vous souhaitez soutenir mon travail, vous pouvez faire un don via Paypal pour aider aux frais d'hébergement. Merci ! (English : Catsuka is an independent website with no advertising, I don't earn any money. If you like my work, you can help me to pay hosting service fees via Paypal donations)
Want to help Catsuka ?
P3 (Pierrick le poulpe Puissant)