NEWS
10/03/2021
à
23h12
par
Tsuka
Catégories :
Sur le web
Tags :
catsuka
SUR LE WEB
Vous aurez probablement vu passer l'information : la nuit dernière un énorme
incendie
a ravagé une partie des datacenters de l'hébergeur français OVH à Strasbourg, dont le bâtiment nommé SBG2, totalement détruit.
Et Catsuka était hébergé sur un serveur du bâtiment SBG2.
Personne n'a heureusement été blessé, mais la machine hébergeant mon site et ses backups est donc définitivement perdue.
Résultat, j'ai passé la journée à réinstaller Catsuka chez un autre hébergeur, car heureusement je faisais régulièrement des backups ailleurs.
J'ai réussi à remettre Catsuka sur pieds vers 16h. Le site n'est pas encore ré-accessible partout pour des raisons de propagations DNS, mais si vous lisez cette news, c'est que c'est revenu pour vous ;-] A noter qu'il me reste encore à réinstaller mes forums.
Mon nouvel hébergement n'est pas aussi rapide que l'ancien, les accès et chargements des pages de Catsuka seront donc peut-être plus lents que d'habitude, mais pour l'instant ça fait le job. Je redéménagerai sans doute à nouveau le site dans quelques temps, vers un nouveau serveur plus rapide. Mais cela prendra du temps, car Catsuka c'est quasiment 100 000 fichiers, et plusieurs sites en un ...
Même si ce genre de scénario m'avait déjà traversé l'esprit, et même si je faisais tout pour avoir des backups, "voir" le Catsuka d'un instant T partir en fumée, ça fait quand même quelque chose ...
J'en profite pour remercier toutes les personnes qui m'ont témoigné leur soutien sur
Twitter
pendant cette journée où j'ai du sacrifier une journée de travail pour ressusciter Catsuka. Vos messages m'ont vraiment fait chaud au coeur.
Je tiens aussi à remercier Kirin, mon admin adoré qui m'a conseillé.
De nombreuses personnes m'ont demandé comment m'aider. Je fais Catsuka seul sur mon temps libre depuis 20 ans, je souhaite continuer à garder le site gratuit, sans pub, sans but lucratif. Mais si vous souhaitez me soutenir, j'ai une page
Patreon
:3
Et je souhaite bon courage à toutes celles et ceux dont les sites et services sont encore impactés par cet incident chez OVH.
A bientôt pour de nouvelles news.
Tsuka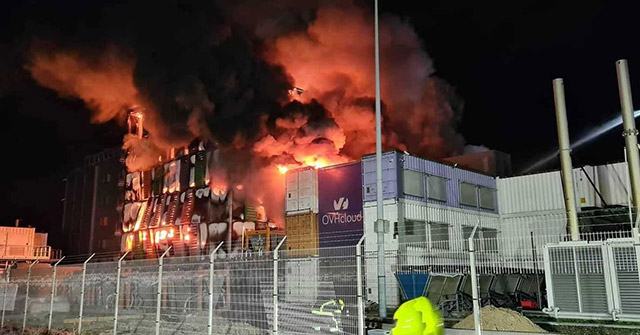 Le bâtiment SBG2 d'OVH où était hébergé Catsuka.
Détruit dans un incendie le 10 mars 2021.
Due to a fire in my datacenter, Catsuka is gone.
I'll keep you informed when I'll resurrect my website.
Fortunately no one was injured at #OVH. https://t.co/beA2IaKMdb

— Catsuka (@catsuka) March 10, 2021
Catsuka's server was in SBG2 datacenter, which has been completly destroyed.https://t.co/VYeu0Jfs3F

— Catsuka (@catsuka) March 10, 2021
Catsuka was there. pic.twitter.com/D1tdjJ3WM3

— Catsuka (@catsuka) March 10, 2021
CATSUKA IS BACK !
I managed to restore the website on another hosting provider.https://t.co/PZDsyQZKRd https://t.co/pbDLvv33KA pic.twitter.com/eznNS6Pz23

— Catsuka (@catsuka) March 10, 2021
Notes :
Depending on your location, the website is perhaps still offline (DNS Propagation delays).
The new server is slower than the previous one (which was burned last night), but well, it'll do the job for now.
Catsuka Forums are still offline.

— Catsuka (@catsuka) March 10, 2021
I want to thank all the people who supported me with their messages and comments during these 8 hours of work to restore Catsuka. I was really touched ❤ pic.twitter.com/B3iXr54va7

— Catsuka (@catsuka) March 10, 2021
Many people asked me how to support Catsuka.
I manage this website alone since 20 years, in my spare time.
I want to keep Catsuka forever free, without ads. It's a passion.
However, I do have a Patreon, without many rewards, if you want to give me a tip :3https://t.co/HCgIxC88A5 https://t.co/B4Tcirly24

— Catsuka (@catsuka) March 10, 2021
NEWS RELATIVES
L'Impératrice - Hématome (clip de Jocelyn Charles et Roxane Lumeret chez Remembers)
News suivante
News précédente
Arco : découvrez le teaser en exclusivité (long-métrage d'Ugo Bienvenu chez Remembers)
Rechercher dans les news :
Archives mensuelles
|
Flux RSS
)
Rejoignez les 600 000 followers des réseaux Catsuka :
Stimulations du moment
Twitter Catsuka
Catsuka Player
Le Capsuka
Catsuka?

Catsuquoi ? ...
Voir l'historique du site
et la timeline
Catsuka est un site indépendant non lucratif, sans aucune pub depuis sa création il y plus de 21 ans. Si vous souhaitez soutenir mon travail, vous pouvez faire un don via Paypal pour aider aux frais d'hébergement. Merci ! (English : Catsuka is an independent website with no advertising, I don't earn any money. If you like my work, you can help me to pay hosting service fees via Paypal donations)
Want to help Catsuka ?
P3 (Pierrick le poulpe Puissant)