Pictures sources : Kon's Tone, Maniwa, CoolAdn, Meluzine, B&O, OnigiriGeek, Catsuka.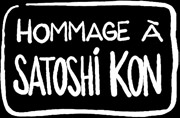 The "A tribute to Satoshi Kon" exhibition was made by SEFA (Japan Expo), in collaboration with Marc Aguesse (in charge of the website Catsuka and of the TV show bearing the same name on the French TV channel Nolife).


Quick teaser trailer for the exhibition broadcasted on the TV channel Nolife on June 30, 2011, which happened to be the first day
of the Japan Expo festival,and also the day Paranoia Agent's final episode was aired on the same channel.